Opening – Linguist, Traditional Chinese (Taiwan)
Position Title: Linguist, Traditional Chinese (Taiwan)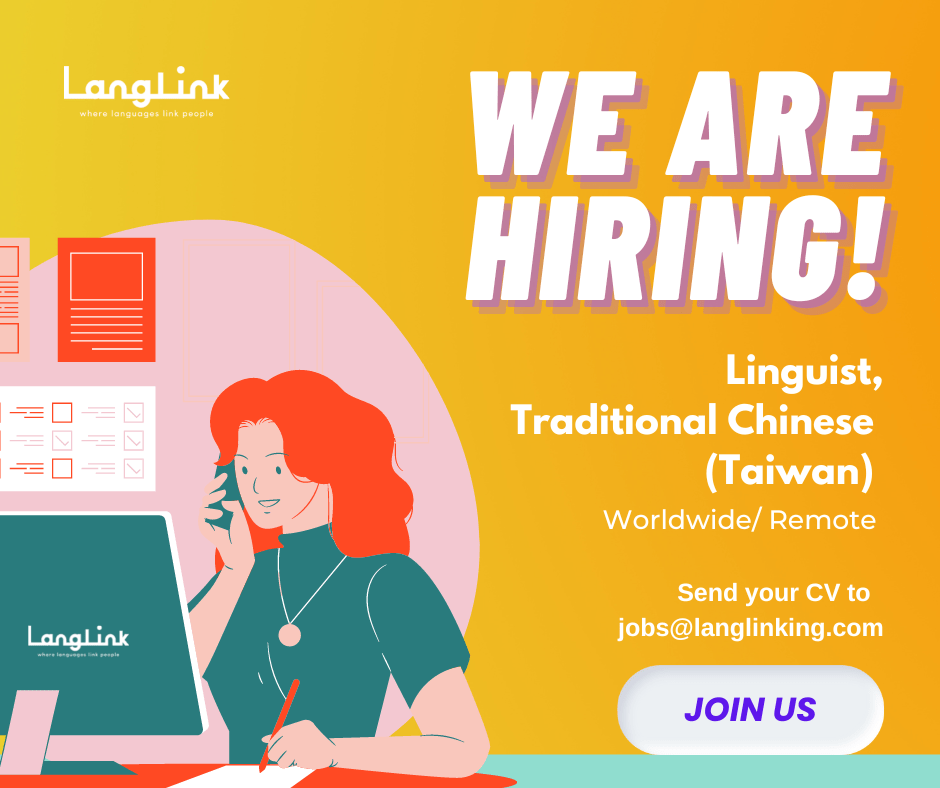 Full job descriptions:
As a linguistic specialist, you will be translating or reviewing content in your local market across a variety of topics, ensuring that the work is performed at a satisfactorily high standard within the expected deadlines and desired quality level. 
Responsibilities:
1.      Translate assigned content from English into Traditional Chinese within the expected deadline
2.      Ensure translation output can meet quality standards laid out by the company and clients
3.      Grow up from translator to reviewer, work as a linguistic reviewer to perform quality checks on content completed by contracted translators
4.      Provide linguistic feedback for team members to help them to grow up quickly
5.      Communicate and collaborate with teams, including sharing project progress, informing about potential delays, and quality issues, participating in team meetings, assisting with client feedback and updates
6.      Juggle multiple projects and priorities in a fast-paced environment, while maintaining professionalism in all situations 
Requirements:
1.      Able to work in a fast-paced environment quick response, multitask, under pressure and meet tight deadlines
2.      Bachelor's degree
3.      Excellent verbal and written communication skills in English both English and Traditional Chinese (Taiwan)
4.      Good team player, problem solver with a burning desire to contribute and have a customer-service mindset
5.      Home-based, ability to work with a remote team
6.      Self-motivated and a fast learner of a wide range of knowledge domains
Preferred Skills:
Prior translation, copywriting, content management, and marketing experience 
preferred
Fresh graduates are also welcomed!
It does not matter if you do not major in English or translation in college, but it is appreciated if you are passionate about translation and have the potential to be a good translator after training.