Why does localization matter?
Why does localization matter?
Many people are confused with Translation and Localization, some think that localization is a glamourized word for translation, while others think that localization is the same as translation. I had a similar experience before I started to explore this industry. How about you?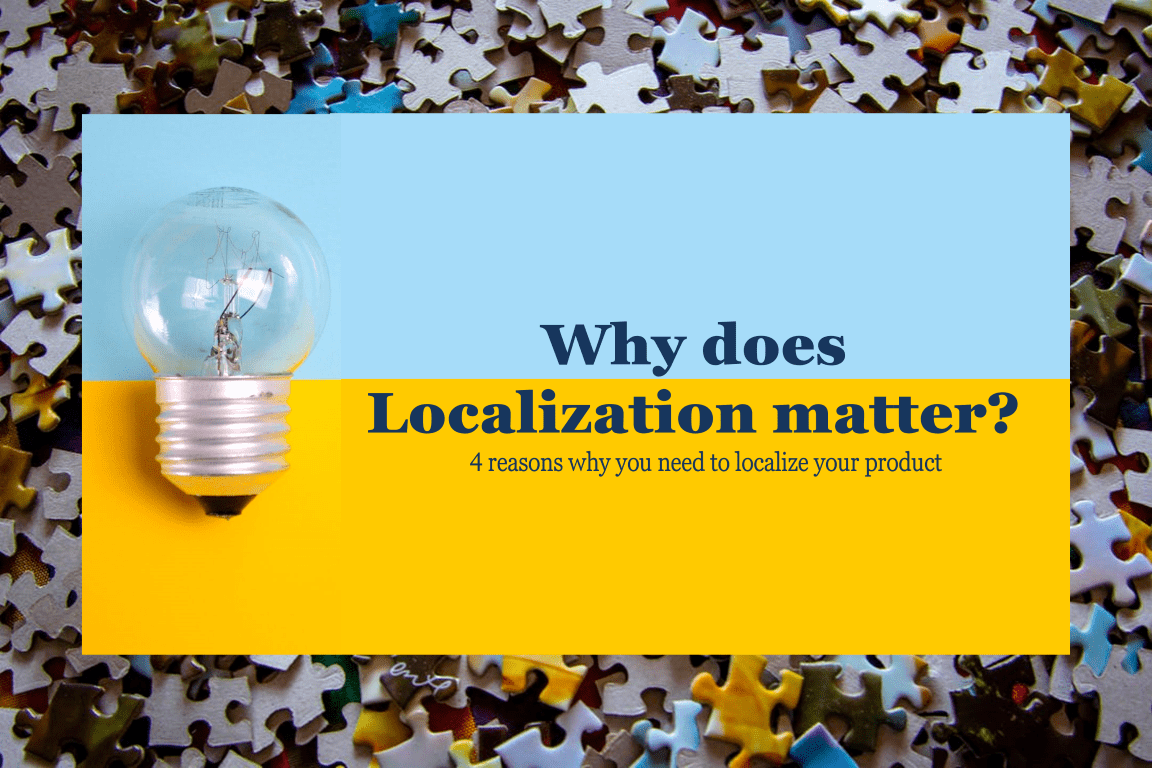 What is Translation?
According to the Oxford Dictionary, Translation is the process of changing something that is written or spoken into another language. It's the first procedure of Localization and the quintessential part of this globalized era.
What is Localization?
Localization stands for the process of adapting a product or service to make it suitable for different cultures and markets. It is the extension of globalization and a perfect merge of translation. To share your brilliant ideas, products, and services in different markets, localization takes this responsibility. Aside from translating, the appropriate localization will adjust the linguistic, cultural, political and legal differences and consider the local formats, currencies and measure units as well. 
If you are in the marketing industry, I believe "Localization" is not a new word for you, but do you know how important it is in your marketing strategies, and how to bring your product globally? It is a process much larger than language translation since the aim is to make the international customers select the originally designed product. That's also why localization services can be applied in most industries, such as software, IT services, retail, social media, or the finance industry.
Four main reasons you need to localize your product
Show your brand personality and consistency when your product goes global. 
Brand personality is the part of your brand that your customers identify with, and it can build a strong connection with the target audience. Therefore, it plays an essential role in driving customer attainment, promoting brand loyalty, and building brand equity. However, how to deliver the same image you built to the different markets? How do we keep the brand DNA consistent?  
Through the process of localization, the brand can deliver its message consistently across different markets with the appropriate tone, style, specific spelling, punctuation and formatting conventions, and make sure the expectation from customers is steady.
Diminish risk and secure your brand 
Apart from the various positive returns by entering the new market, there are also 
many potential risks. When facing different socio-cultural/demographic environments, new political atmosphere, and other technological conditions, it is easy to underestimate the cultural and religious sensitivities or misunderstand the imagery, colors and political ambience, and put your brand in an embarrassing situation or even a public relations crisis.
In this case, responsible localization is a secure device for you. Through the professional native localization team, they can help you avoid serious marketing fails and assure your business can work smoothly in the foreign market
Expand Your Business and Bumps up your sales
Bringing your product to a new market is a great way to expand your business.  Providing your product or services more publicity and exposure, localization helps you to connect with a broader audience. And more exposure can definitely enhance demand and bump up your sales. But how to boost the sales rapidly and accurately?
Can't Read, Won't Buy is a research series by Common Sense Advisory collaborated with survey specialist Kantar World Panel to survey 8,709 consumers in 29 countries in their native language. In the study, they mentioned 3 key points, 1. Consumers prefer to buy from websites in their native language (For non-English users, the preference for purchasing at sites in their mother-tongue increases to 67%) 2. Information that buyers can read is pivotal in the purchase decision. 3. Local-language support creates stickier customer relationships (75% of respondents say that they're more likely to purchase the same brand again if customer care is in their language.)
Wherefore, there is no doubt a native language and localization package can boost your sales easily. 
The choicest way to sell to global audiences and share a piece of the thriving global market is to localize your product and services.
Reduce Costs
Localization with a solid foundation may actually help you reduce costs and time. If you have already invested a huge budget in the advertisement,  giving just a portion of that cost on adapting the product/ services/ software to local markets, and hence conceiving a possibility of additional revenue, makes for a worthy investment.
To possess a lower localization cost, you may start at the early stage of your development. And if you use appropriate tools such as style guides, glossary and TMs (translation memories), when you release your 2.0 products next year, then it would save you up to 90% time and money and ensure the new version is very friendly to your old users because the same terms are translated consistently across different versions.
If you are considering how to bring your brilliant product to the world or any new market, localization will be the one crucial step of your business planning. Don't hesitate, please get your foot in the door. We are happy to find out the best localization strategies with you.