Opening-Reviewer (English into Traditional Chinese Taiwan, General Domain)
Position Title: Reviewer (English into Traditional Chinese Taiwan, General Domain)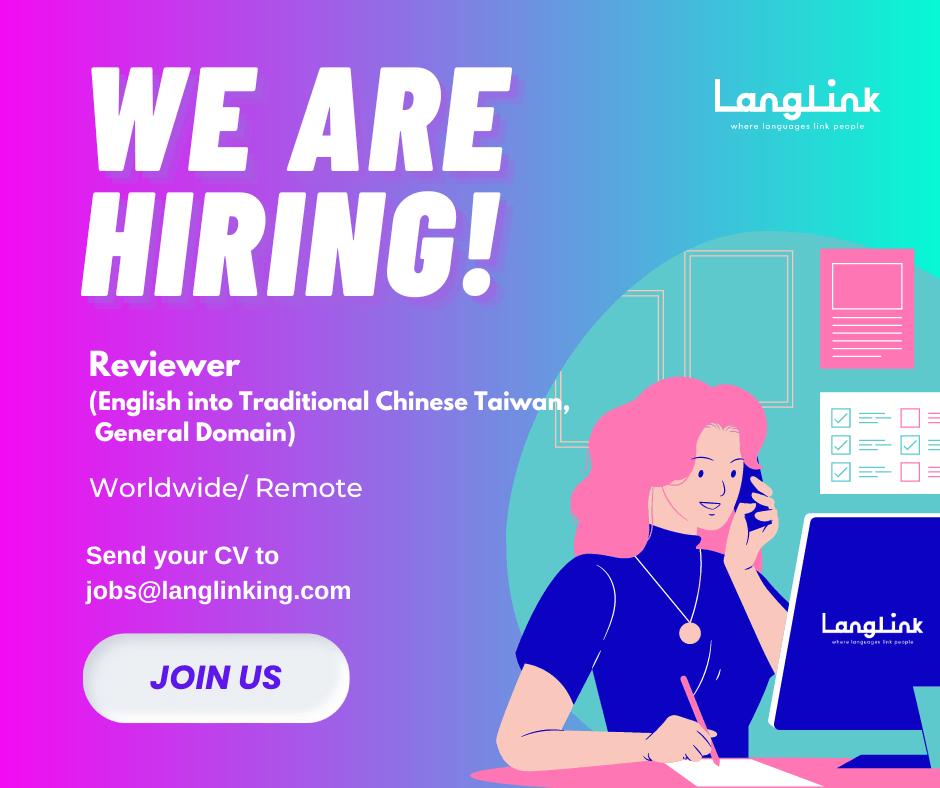 LangLink Localization work for the top players within the Game/IT/Technical/Tourism/Luxury/Retail sectors requiring an extremely high level of service, professionalism, and translation quality and care. We are looking for qualified English > Traditional Chinese (TW) reviewers interested in working as a linguistic reviewer to perform quality checks on content completed by contracted translators and ensure the final quality can meet client expectation. Candidates with a positive attitude and ambition to grow their career within the localization industry are welcomed. This position allows work from home.
Full Job Description
As a linguistic reviewer, you will be reviewing content in your local market across a variety of topics, ensuring that the work is performed at a satisfactorily high standard within the expected deadlines and desired quality level.
Keywords:
Fulltime, Work from Home, en>zhTW reviewer, Localization, General Domain
Responsibilities:
1. Review assigned content from English into Traditional Chinese (TW) within the expected deadline
2. Ensure translation output can meet quality standards laid out by the company and clients
3. Work as a linguistic reviewer to perform quality checks on content completed by contracted translators
4. Provide linguistic feedback for team members to help them to grow up quickly
5. Communicate and collaborate with teams, including sharing project progress, informing about potential delays, and quality issues, participating in team meetings, assisting with client feedback and updates
6. Juggle multiple projects and priorities in a fast-paced environment, while maintaining professionalism in all situations
Requirements:
1. Minimum 1 years' experience as an English into Traditional Chinese Taiwan freelance or in-house translator/reviewer
2. Native Traditional Chinese Taiwan Speaker
3. Able to work in a fast-paced environment quick response, multitask, under pressure and meet tight deadlines
4. Bachelor's degree
5. Good team player, problem solver with a burning desire to contribute and have a customer-service mindset
6. Home-based, ability to work with a remote team
7. Self-motivated and a fast learner of a wide range of knowledge domains
Preferred Skills: Prior translation, copywriting, content management, and marketing experience preferred
What's on offer:
1. Work From Home
2. Stable working environment with clear career growth
3. Competitive salary and other benefits
4. 5-day work (9AM-6PM)
Join us today!
Please email your latest CV or profile to [email protected] with the subject as
Application + Full Name + Game Reviewer (English into Traditional Chinese Taiwan)".