Upcoming video games (in May ,2023)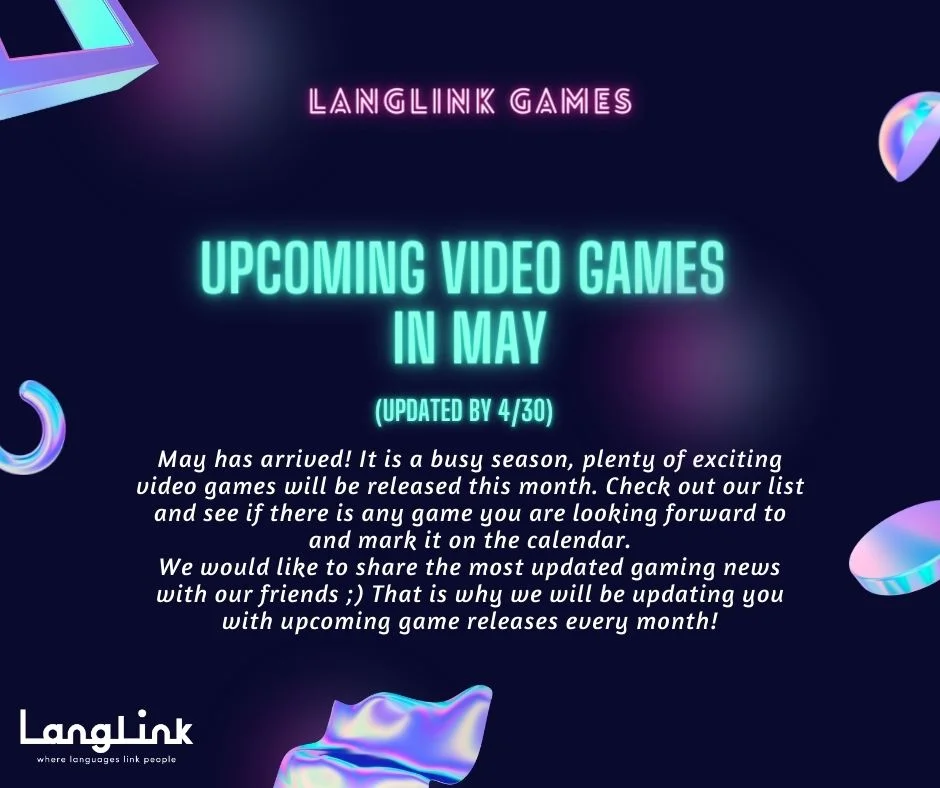 Upcoming video games (in May ,2023)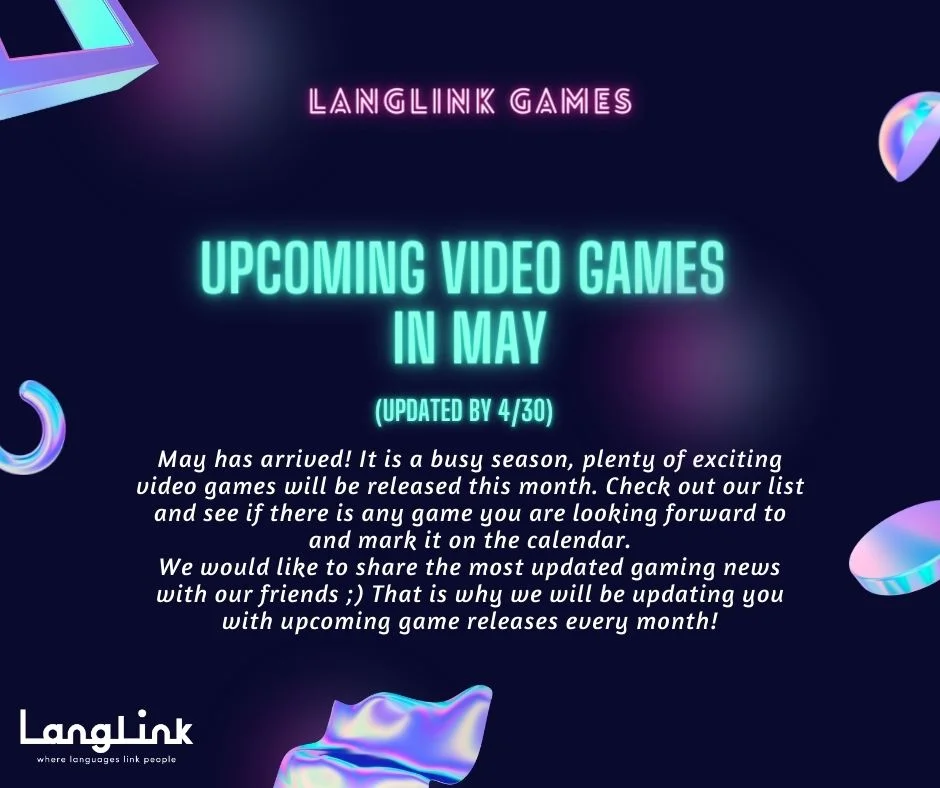 Upcoming video games _May
| | | | | | | |
| --- | --- | --- | --- | --- | --- | --- |
| Released date | Game title | Genre | Languages | Developer | Publisher | Platform |
| 5/1/2023 | Arto | Action, Adventure, Indie | EN | OrionGames | Freedom Games | PC |
| 5/1/2023 | City of Beats 律动之城 | Action, Indie | EN, FR, DE, ESP, PT-BR, ZHCN | Torched Hill | Freedom Games | PC |
| 5/1/2023 | Ethyrial: Echoes of Yore | Indie, Massively Multiplayer, RPG | EN | Gellyberry Studios | Freedom Games | PC |
| 5/1/2023 | Monster Tribe | Adventure, Indie, RPG | EN | Boundless Games | Freedom Games | PC |
| 5/1/2023 | The Witch of Fern Island | Adventure, Casual, Indie, RPG, Simulation, Early Access | EN, PL | Enjoy Studio S.A. | Freedom Games | PC |
| 5/1/2023 | World Turtles 世界巨龟 | Indie, Simulation, Strategy, Early Access | EN, DE, ZHCN, AF | Re: cOg Mission | Freedom Games | PC |
| 5/2/2023 | Redfall 红霞岛 | Action, Adventure | EN, FR, IT, DE, ES, AR, JA, KO, PT-BR, RU, ZHCN, ES-LATAM, ZHHK, PL | Arkane Austin | Bethesda Softworks | PC, Xbox Series X|S |
| 5/2/2023 | Showgunners | Indie, Simulation, Strategy, Early Access | EN | Inexplicable Games | Inexplicable Games | PC |
| 5/4/2023 | Bare Butt Boxing | Action, Casual, Indie, Early Access | EN | Tuatara Games | Tuatara Games | PC, early access |
| 5/4/2023 | Propagation: Paradise Hotel 传播:天堂酒店 | Action, Adventure, Indie | EN, FR, IT, DE, ES, JA, KO, PT-BR, RU, ZHCN, PL | WanadevStudio | WanadevStudio | Quest, PC VR |
| 5/4/2023 | Ravenlok | Action-AdventureRPG | EN | Cococucumber | Cococucumber | Xbox Series X|S, Xbox One, PC |
| 5/8/2023 | Darkest Dungeon II 暗黑地牢2 | Indie, RPG, Strategy | EN, FR, IT, DE, CS, PL, PT-BR, RU, ES-LATAM, JA, KO, ZHCN, UA | Red Hook Studios | Red Hook Studios | PC |
| 5/9/2023 | Dokapon Kingdom: Connect | Board GameParty Multiplayer Role-Playing | EN | Idea Factory | Nintendo | Switch |
| 5/10/2023 | Occupy Mars: The Game 占领火星 | Action, Adventure, Indie, Simulation, Early Access | EN, FR, IT, DE, ES, PL, PT-BR, RU, ZHCN, TR, PT | Pyramid Games | Pyramid Games, PlayWay S.A. | PC early access |
| 5/12/2023 | The Legend of Zelda: Tears of the Kingdom 萨尔达传说王国之泪 | Action-adventure | JA, EN, ES, FR, DE, IT, NL, RU, KO, ZHCN | Nintendo EPD[a] | Nintendo | Switch |
| 5/16/2023 | Humanity | Action, Casual, Indie | EN, FR, IT, DE, ES, JA | tha ltd. | Enhance | PS5, PS4, PC |
| 5/17/2023 | Greedventory 聚敛无厌 | Action, Adventure, Indie, RPG | EN, FR, DE, ES, PT-BR, ZHCN, UA | Black Tower Basement | Nordcurrent Labs | PC |
| 5/17/2023 | SubwaySim Hamburg | Casual, Indie, Simulation | EN, DE | HR Innoways | Aerosoft GmbH | PC |
| 5/18/2023 | Firmament 苍穹乾坤 | Adventure, Indie | EN, FR, IT, DE, JA, KO, PL, PT-BR, RU, ZHCN, ES-LATAM | Cyan Worlds Inc | Cyan Worlds Inc | PC |
| 5/18/2023 | The Outlast Trials 絕命精神病院實驗 逃生:试炼 | Action, Adventure, Indie, Early Access | EN, FR, IT, DE, ES, JA, KO, PL, PT-BR, RU, ZHCN, ES-LATAM, TR | Red Barrels | Red Barrels | PC early access |
| 5/19/2023 | LEGO® 2K Drive 樂高2K 飆風賽車 | Casual, Racing | EN, FR, IT, DE, ES, DA, NL, JA, KO, PL, PT-BR, ZHCN, ES-LATAM, TH, ZHHK | Visual Concepts Entertainment | 2K | Xbox Series X|S, Xbox One, PS5, PS4, Switch, PC |
| 5/23/2023 | Amnesia: The Bunker 失忆症:地堡 | Action, Adventure, Indie | EN, FR, IT, DE, ES, PT-BR, RU, ZHCN | Frictional Games | Frictional Games | PS4, Xbox Series X|S, Xbox One, PC |
| 5/23/2023 | Miasma Chronicles 迷瘴記事 | Action, Strategy | EN, FR, IT, DE, ES, JA, KO, PL, PT, RU, ZHCN, ZHHK | The Bearded Ladies | 505 Games | PS5, Xbox Series X|S, PC |
| 5/23/2023 | Star Trek: Resurgence | Action, Narration, Space | EN | Dramatic Labs | Dramatic Labs | PS5, PS4, Xbox Series X|S, Xbox One, PC |
| 5/23/2023 | Warhammer 40,000: Boltgun 战锤40,000 | Action, Indie | EN | Auroch Digital | Focus Entertainment | Switch, PS4, PS5, Xbox Series X|S, Xbox One, PC |
| 5/24/2023 | Sunshine Shuffle | Casual | EN | Strange Scaffold | Strange Scaffold | Switch, PC |
| 5/25/2023 | Above Snakes 蛇上而生 | Adventure, RPG, Simulation | EN, FR, DE, ES, PT-BR, RU, ZHCN, KR, ES-LATAM, ZHHK, PL | Square Glade Games | Crytivo | PC |
| 5/25/2023 | Evil Wizard 邪恶巫师 | Action, Adventure, Indie, RPG | EN, FR, IT, DE, ES, JA, PL, PT, PT-BR, RU, ZHCN, ES-LATIN | Rubber Duck Games | E-Home Entertainment Development Company Ltd. | Xbox Series X|S, Xbox One, PC |
| 5/25/2023 | Hello Neighbor: Search & Rescue 邻居VR:搜索与救援 | Adventure, Indie | EN, FR, IT, ES, JA, KO, PT-BR, RU, ZHCN | Steel Wool Studios | tinyBuild | PSVR 2 |
| 5/25/2023 | Tennis Manager 2023 | Indie, Racing, Simulation, Sports, Strategy | EN, FR, IT, DE, ES | Rebound CG | Rebound CG | PC |
| 5/25/2023 | The Lord of the Rings: Gollum 魔戒:咕噜 | Action, Adventure, RPG | EN, FR, IT, DE, ES, JA, KO, PL, PT-BR, RU, ZHCN, ZHHK, TR | Daedalic Entertainment | Daedalic Entertainment, Nacon | PS5, PS4, Xbox Series X|S, Xbox One, PC |
| 5/26/2023 | Fitness Circuit 健身巡遊 | Sports, Fitness, Rhythm, Party | EN, FR, IT, DE, ES, ZHHK, ZHCN, KO | Nintendo | Nintendo | Switch |
| 5/30/2023 | Shame Legacy | Action, Adventure, Indie | EN, FR, IT, DE, ES, JA, KO, PL, PT-BR, ZHCN, ES-LATIN, ZHHK, TR | Fairyship Games, Revenant Games | Destructive Creations | PS5, PS4, Xbox Series X|S, Xbox One, PC |
| 5/30/2023 | System Shock 网络奇兵 | Action, Adventure | EN, FR, IT, DE, ES, JA, KO, PL, PT-BR, RU, ZHCH, TR | Nightdive Studios | Prime Matter | PC |
May has arrived! It is a busy season, plenty of exciting video games will be released this month.
Check out our list and see if there is any game you are looking forward to and mark it on the calendar.
We would like to share the most updated gaming news with our friends 😉 That is why we will be updating you with upcoming game releases every month!
About LangLink's Game Localization Solutions
A successful game localization requires advanced gaming and language skills. LangLink's game localization team includes hardcore gamers, native linguists, and professional game translators. We not just localize games, but also play them. Learn more about services.