Partner with XTRF for Our Next Stage of Development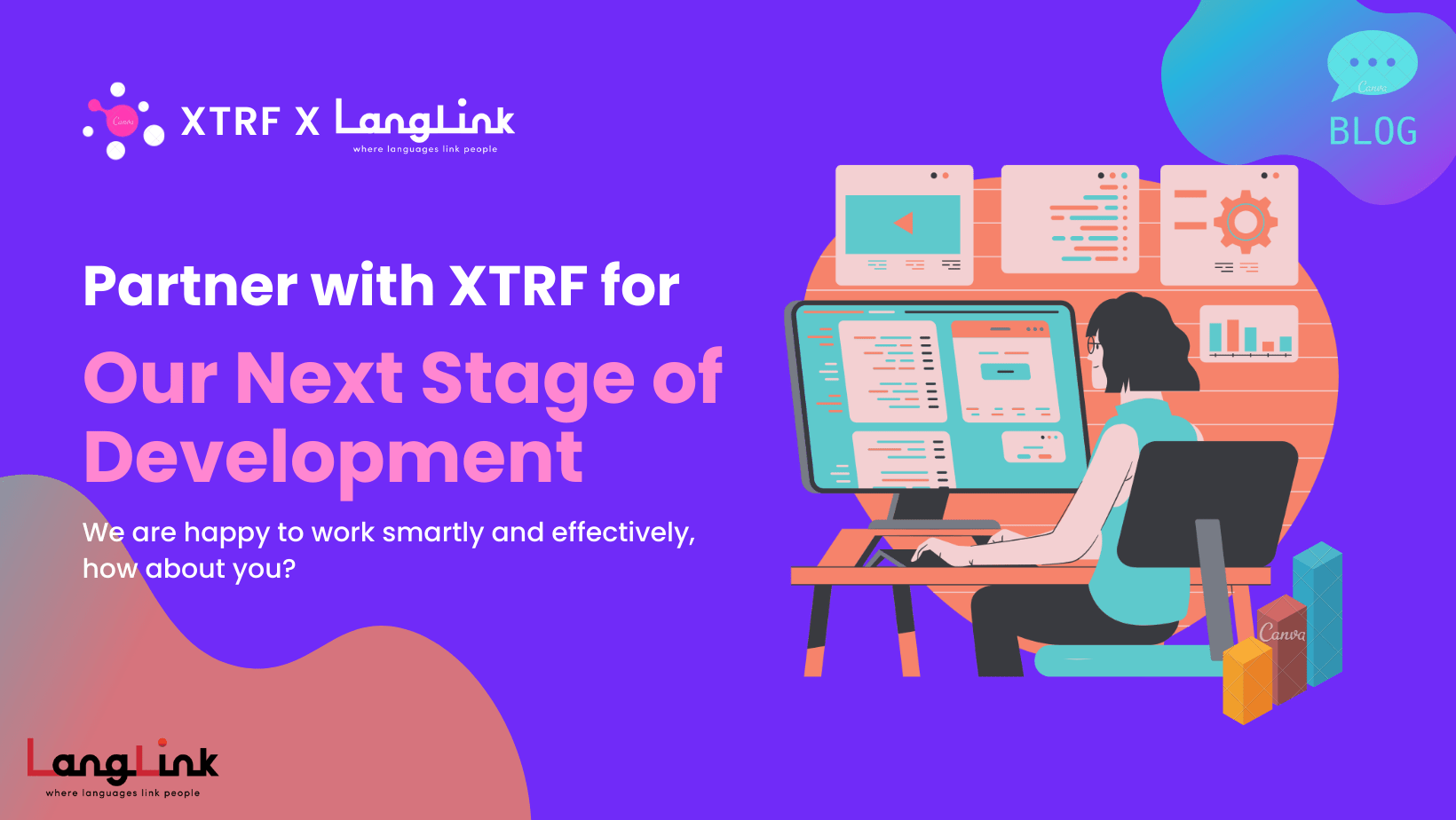 Parnter with XTRF for our next stage of development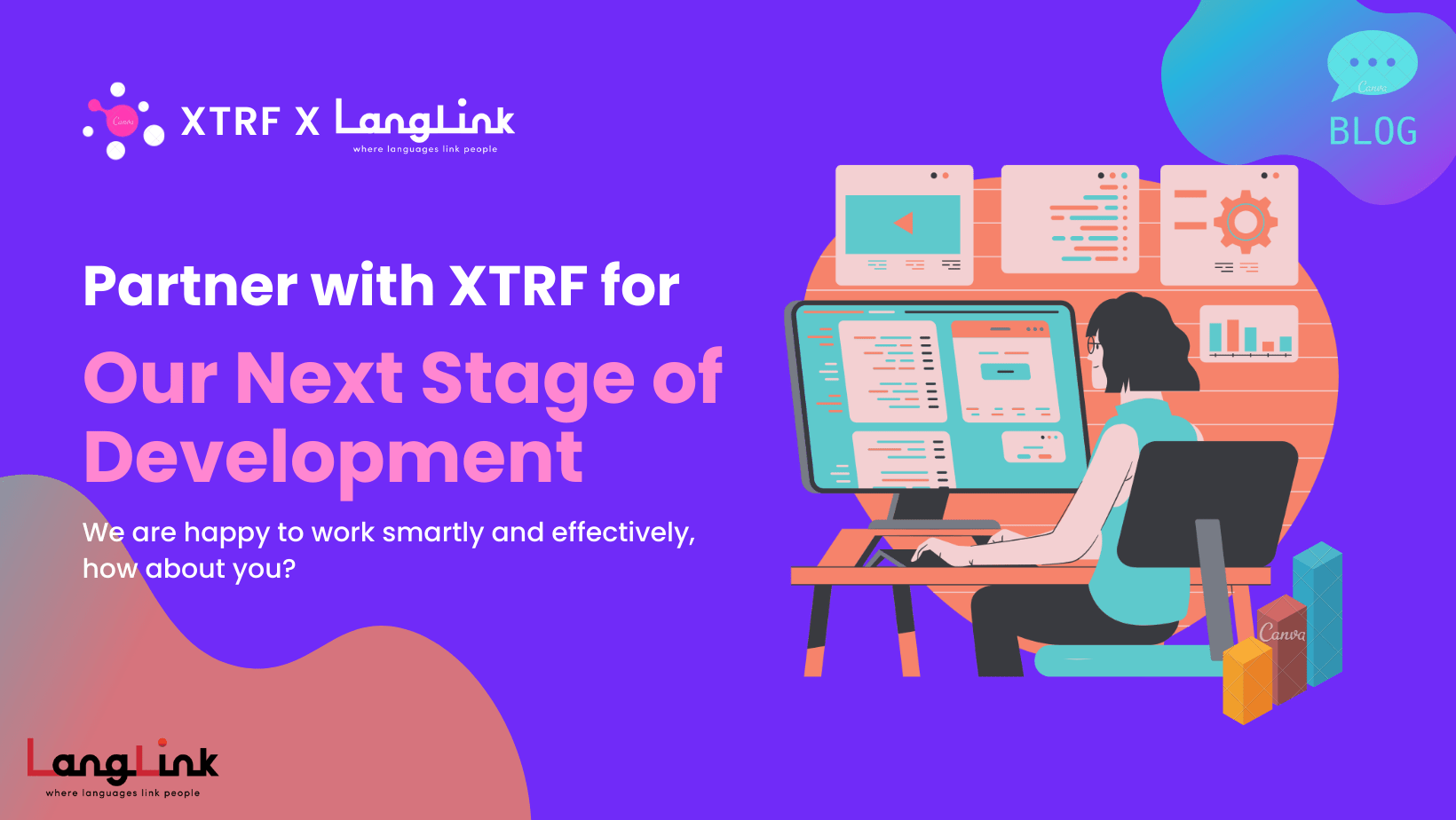 LangLink Localization specialises in providing cost-effective and one-stop solutions to accommodate all our clients' needs, including quality translation and localization, creative services, AI and data services, with a focus on the fields of technology, life science and gaming, with the pleasure to work with plenty of clients and translators worldwide every day.
We strive to provide an excellent, fluid and efficient collaboration experience to clients and vendors. Therefore, we have been looking for a management platform that can fulfil our needs since 2019. After rigorous communication and trial, we finally decided to partner with XTRF for our next stage of development at the end of 2021.
Our sole and crucial reason for such a decision is that XTRF is tailor-made for the translation and localization industry. It truly knows what we need and our priorities. After several months of using it as XTRF's first Chinese partner, we can say that our choice is not regrettable!
XTRF is an all-inclusive platform designed for language service providers. Not only does it provide a lean process flow for every step, but it also covers all elements of our industry, and all participants and shareholders are able to work on the same platform. Whether it is Client Relationship Management, Vendor Management or Project Management, every role is able to use the platform since it covers the complete workflow of the language service industry.
For Customer relationship management, the business department can centrally manage all client data in one portal, from planning client events or client meetings, following up each client's cooperation progress, to obtaining each client's cooperation report. The reporting function of XTRF can provide a variety of insights for the business analysis, allowing the business team to support the project team or client regularly.
The client portal allows clients to place orders in an effective way. They can track each production progress visually and conveniently, such as getting the real-time project volume, expenditure reports for each language pair, total savings by using CAT tools for their tasks and much more. Especially, our clients with long term partnerships are willing to join the new platform and happy to enjoy the benefit from the new platform.
For Vendor Management, we can work with our vendor and resources more directly, no matter in the onboarding period, vendor performance evaluation, vendor management, payment of the final stage, etc. The XTRF platform helps to build a smoother workflow and management with the vendor. Since we can track the workload and quality performance anytime, it allows us to provide immediate support in a timely manner and have a better understanding of the vendor. On the other side, vendors are able to claim and submit jobs on the vendor portal, as well as make sure every payment can be delivered timely and accurately. This can save both financial teams much effort.
For project management, since we need to complete the project by our ISO 9001 quality management system, the customization feature helps a lot in this part. Due to the customised process flow, the whole process is transparent, and the project manager can follow up the process and cost in detail conveniently.
In our real-life practice, our PM can create quotations in the system; after the client accepts the order, the project will be automatically created. Our PM can start scheduling the project in the portal and assign each task to vendors. Once the project is completed, we can even submit and send out the project and invoice right from the portal.
No matter if it is our in-house professional editor or an experienced freelancer, the tasks or offers received by the linguist will be integrated into the portal, and all tasks can be sorted and reviewed in advance, which can help both PM and linguistics have better tasks management experience.
All of these functions allow us to work in a standardised way, and such aligned process flow and documentation can build an organised database. It is not only beneficial to the work efficiency, but also the general business understanding and analysis of the company.
Although XTRF is powerful and helpful, we met some challenges when we were migrating to the new platform, especially when we need to transfer quickly and run the platform smoothly while retaining the regular standard of our original workflow. Fortunately, XTRF offers a user-friendly interface. With the simple and clear UI design, both our teammates and clients can handle all the technicalities that are usually deemed as "complicated" with ease.
Also, XTRF provides comprehensive online training courses and trials for each position/department, so that all users can handle the system beforehand. Since XTRF starts technical support from the trial period, this allows our internal technical team to work with XTRF closely to deploy different functions that we need before the system goes live.
No doubt, we encountered quite a few challenges after the system went live despite the abundant preparation work. However, XTRF's technical team can always give us support in time. You may not believe that we were able to transfer 90% of our business to XTRF successfully within a month, but we did it! Kudos to XTRF's technical support team, they are happy to give you support!
We are now continuously exploring more functions of the XRFT platform. We are very happy to have the opportunity to share our experience. It is great to have XTRF partner with us in our next stage of development. We believe that we can add value to our clients through XTRF.
We are happy to work smartly and effectively, how about you?